The European Researchers' Night is a public event devoted to the popularisation of science and scientific learning. Adults and youngsters that came to the festival had the opportunity to meet researchers, talk to them, and learn about the impact of scientific research on people's everyday lives.
Every year, the Night features numerous activities, such as hands-on experiments, science shows, learning activities for children, science quizzes, games, or competitions with the researchers. They all give rise to the public awareness of the positive role of research in society.
The European Researchers' Night takes place all over Europe for ten years now. The events are supported by the European Commission as part of the Marie Skłodowska-Curie Actions, which is an EU funding program with a goal to boost researchers' careers.
Department of Chemistry in the Night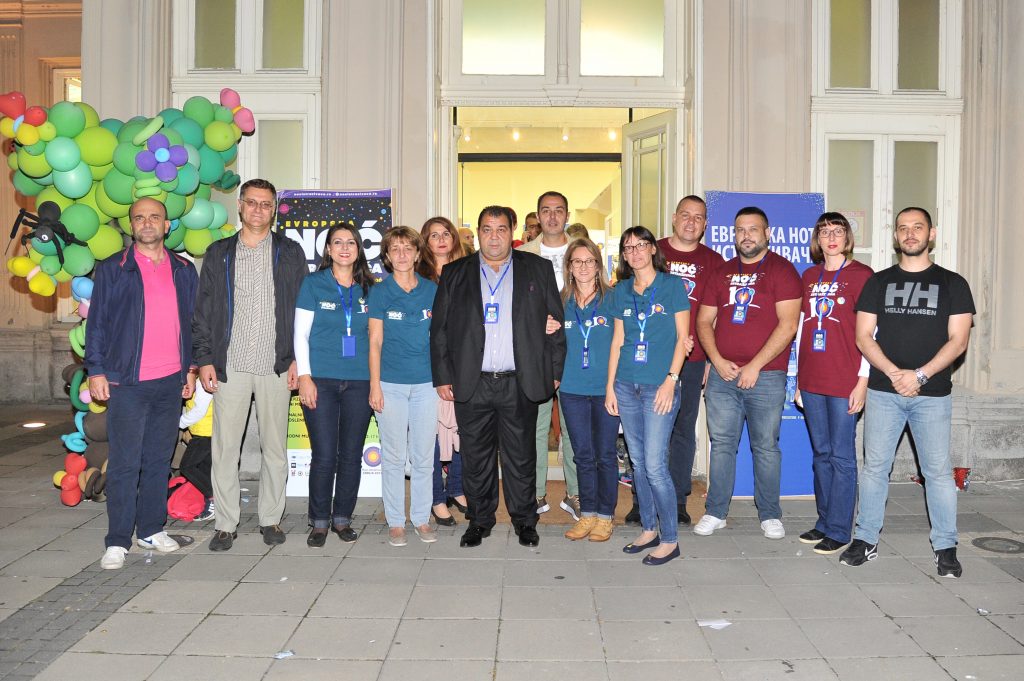 Our department has been a part of the Night for the past several years. Each year, all researchers really gave their best to amaze youngsters, to tackle their mind, but one thing stood out above all – the fact that kids love chemistry!
You don't have to believe me, see for yourself: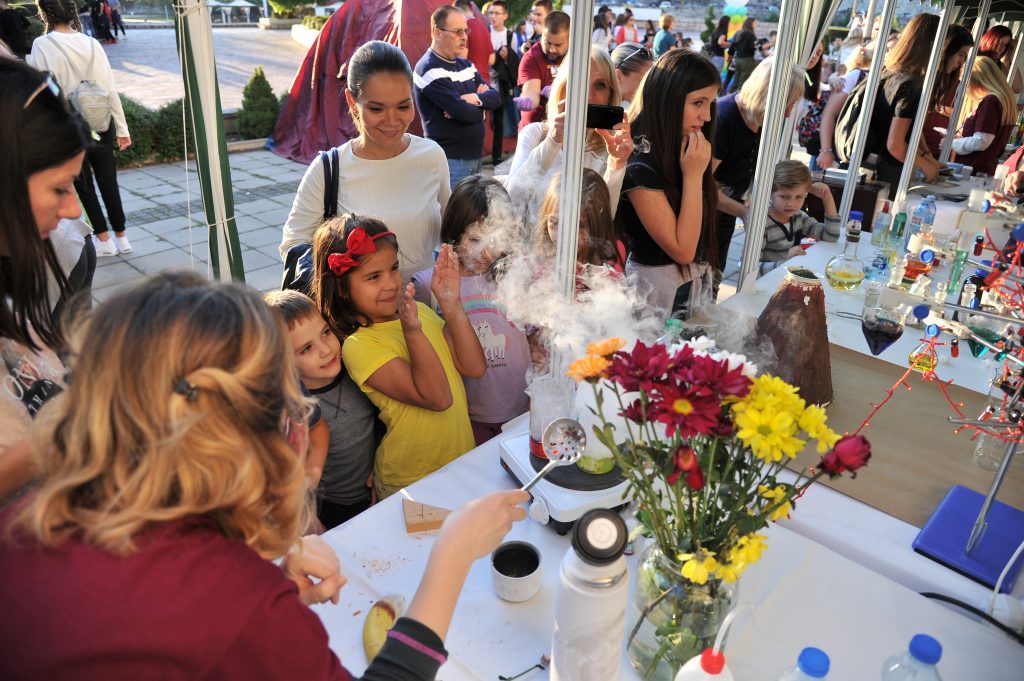 This week, professors from our department gave several lectures—at the local Science Club—on attractive topics such as The Periodic Table – Past, Present, and Future, The Magical World of Herbs, As a Detective, From Cleopatra to Shakespeare – The History of Poisoning, Analytical Chemistry in Investigating the Cultural Heritage Material.
In the meantime, researchers—chemists—were doing some exciting experiments on their stand, placed at the Officers Club in Niš. They were extremely focused on winning over the surrounding youngsters and evoke wonder and awe towards science.
Voice of Researchers

I asked several researchers to share their impressions of the 10th Night.
"The number of visitors has notably increased since the last year, which is a good thing," said Nena Velinov, a researcher at the Chair of Applied and Environmental Chemistry, "attractive settings from various fields were alluring to people of all ages because they didn't demand previous expert knowledge to understand how they work."
"Genie in a bottle, the volcano, paper coloring and a few more experiments with colored indicators were very popular among the youngest visitors," added Sonja Janković, a Ph.D. student at our department.
Marija Dimitrijević, a researcher at the Chair of Analytical and Physical Chemistry, told us that she's glad that interest in science grows rapidly every year. "My most favorite—and frankly most curious—visitors are children. They blinklessly followed every move of mine while I was dipping a banana in a dish filled with liquid nitrogen and then tried to hammer a nail with the frozen banana," she said, "Girls would be amazed every time I gave them a frozen flower, so eventually they gave me a nickname Elsa, a heroine from their favorite cartoon movie – Frozen."
A researcher at the Chair of Organic Chemistry and Biochemistry, Snežana Jovanović tried to sound more poetic:
This Night has a great power, a superpower! The roles have been replaced. Adults became children and children grew up. I believe the next morning all will wake up happier, more cheerful with the new optimism…

A loyal visitor and lover of the Night
Photos: Noć istraživača/Archive