Me and previous ESOFs
Although I am 40 now, I still feel young and excited about ESOF. I was 24 when I wanted to know more, and learn more, to travel and to meet people occupied with science. Luckily, one day informed by no one wishing to go somewhere free and to learn science I found information on the Internet about Euroscience and its conference ESOF (Euroscience Open Forum). Filling the application and sending the e-mail with all relevant data were easy, and I did not expect to get the grant although I was honest giving the answers in the application.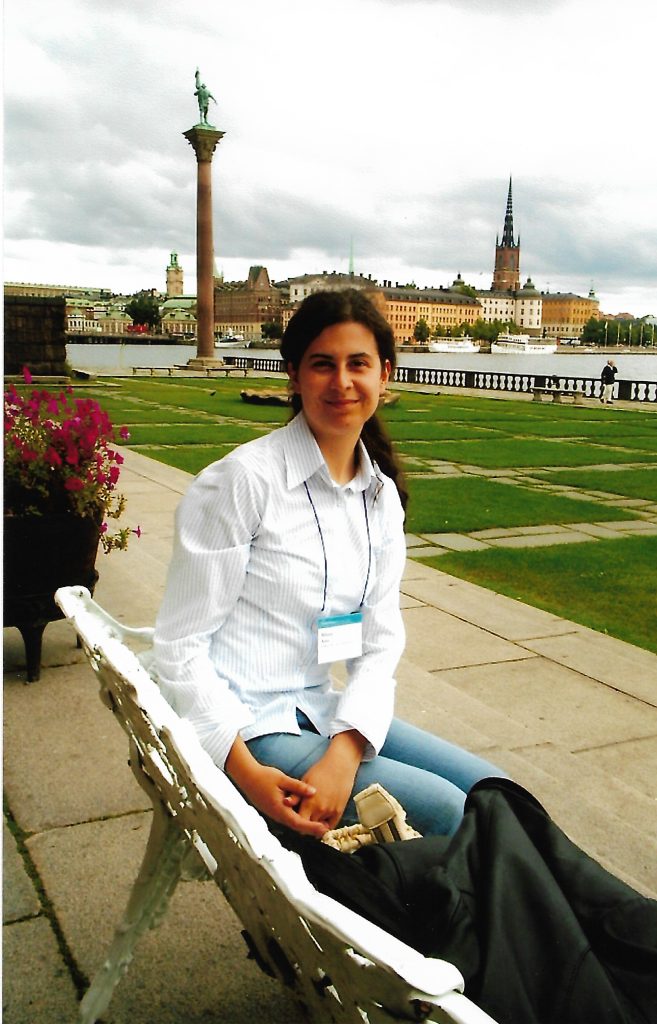 ESOF2004 was the first conference of that kind in Europe. I met a lot of people, younger and older, got plenty of useful information which helped a lot my career development, met the director of Euroscience office in Belgrade, and got inspired through conversations with participants-some of them were Nobel prize winners or president of Marie Currie Fellowship Association which sponsored my stay, travel and participation at ESOF2004. The next open forum of that kind was in 2006 in Munich, but although I again got the grant from ESOF2006 sponsor I could not come because I was a visiting scholar at The University of Manchester, United Kingdom. Deeply inside me I was regretting that I was not able to come.
ESOF2020
This year because of COVID-19 pandemic, there was a possibility to participate at ESOF2020 online. ESOF2020 was in Trieste, Italy, and the next ESOF2022 will be in Leiden, the Netherlands. The closing ceremony was different that it used to be. The beginning was late, and more than 100 curious and science dreamers were waiting for the ceremony to be opened online. The first speaker was Stefano Fantoni, champion of ESOF2020. He called the conference the first conference in COVID-19 era in the city of science-Trieste. He regretted that it was not possible for him to meet many colleagues at the conference and exchange the ideas due to the present situation. He sees future in the sustainable development through the use of supercomputers and artificial intelligence, and not only to make the research excellent. In his opinion, science and life should be full of truth and simplicity.
I was surprised with the next speakers because they were talking about Italian science, economy and the development. This ESOF2020 was quite unusual for me. Massimiliano Fedriga, President of Friuli Venezia Giulia Region said that it is not surprising that ESOF2020 was in Trieste. It is the city with the highest number of researchers. He was proud of the concrete result of ESOF2020, and that was the establishment of the Institute of sustainability. In my opinion, he was emotional like previous speaker and me, because he said big thanks to all people who believe in this event-ESOF, and he was particularly grateful to the volunteers. Paolo Glisenti, Expo2020 Dubai-Italy's Commisssioner General put the accent in his speech on environment, people and health, and sees ESOF mission to create minds in order to create the future. The research according to him should be a multidisciplinary with the open innovation with the special accent on the application of scientific results in industry from start-ups to big companies. The connection should be better between science and policy makers and science and media-to spread science, for sustainability and growth. Stefano Patuanelli, Italian Minister for Economic Development called Trieste not only a city of science, but the city of contamination, the city of port, and the technological transfer.
A conversation was led later between Mariachiara Tallacchini, Professor of science, law and democracy and Massimiliano Fuksas, architect on science and innovation. They saw the future in the knowledge based society, and the importance of law ("soft law") and "citizen science". It means that it must be better connection of scientific institutions and citizens, and more trust must be built. The decision making should be changed, from today "cherry picking", and machine learning must be implemented into interdisciplinary research.
Massimo Inguscio, National Research Council President, reminded on some innovations that changed our societies, such as quantum mechanics, lasers. In his opinion, science can be good or bad. Quantum computing is a good success of Italian institutions. For better science, it should be investments of governments, but also companies.
Giuseppe Conte, Italian Prime Minister, pointed out that Trieste has the privileged location for exchange due to many factors, and with a long record of science, and scientific diplomacy. In his opinion, dissemination, mobility of scientists (the scientists from the third world countries should be considered as a value, and not a threat) should be prerequisites in the following years. Science and policy should be better connected particularly in times, like this, when there is an increasing doubt about science. In this era of the second quantum revolution (in quantum physics in particular), researchers are a common good, which must tend to make their studies more connected to the society.
In the following section of the discussion and presentation of the quantum technology and quantum communication with participants: Giuseppe Conte (Italian Prime Minister), Angelo Bassi (University of Trieste), Alessandro Zavatta (University of Florence) and Roberto di Lenarda (University of Trieste Chancellor), the spectators were informed about the project that should be realized from February 2021 on quantum secure link between Italy and Malta by QTI (Quantum Telecommunications Italy) to protect security of many institutions, elections, etc.
Afterward, current president of Euroscience-Michael Matlosz presented the future of ESOFs, roles of Euroscience, which according to him are mainly 1) interaction of scientists, and 2) interaction of scientists and the public. He reminded present scientists that Euroscience is an independent organization, established in 1997 with the seat in Strasbourg (France). It promotes the open research, mobility, talented researchers to get the most regarding the conditions for research. Stefano Fantoni, champion ESOF2020, and Roberto Dipiazza, Mayor of Trieste gave final words from the Italian side, and Ferry Breedveld, Corinne Hofman and Henri Lenferink from the Dutch side about EFOF2022 which will be in Leiden, the Netherlands-the city of the oldest university in the Netherlands, "Bastion of freedom".
A message for the young scientists
I wish I will be able to participate at ESOF2022 in Leiden, my voice of science to be heard, and also many young people to use all possibilities which Euroscience gives by the participation at ESOF2022, but also many bodies and grants. Therefore, please use the following link of Euroscience: https://www.euroscience.org/, to explore and choose for yourself what you need to get more, to learn more, to collaborate more, to grow scientifically more.
Dr Biljana Arsic, Deputy Editor at Chemia Naissensis